The
Rook

Family

Tree
My GGG Grandfather WILLIAM ROOK is an elusive character!
There are a few possibilities for his parentage, but none proven.  First we have EDWARD BURGESS ROOK & MARY STRICKLAND both of Portsea, Hampshire.  IF our William is the William Rook christened in Alverstoke on 2nd November 1777, then they are possibly his parents.  We originally suspected these to be William's parents after he, and his family, were 'removed' from Boughton Under Blean in Kent to Portsea in Hampshire.  We then discovered that William had completed his apprenticeship in Portsea (details below).  Alverstoke being 'just round the corner' seemed to be an obvious choice.
However, I have since discovered that 'our' William states his birth parish as Holt, Dorsetshire on the 1851 Census.  This changes things slightly!  Holt seems to have been part of (as per records go) Wimborne Minster in Dorset.  There is an interesting marriage of GEORGE ROOK & SUSANNAH WATTS, married at Horton With Woodlands (couple of miles from Holt) on 4th September 1765.  William had children named George and Susannah!
If you have any further information that you can offer on either option, or another, then please let me know.
Definitely ours :)
William Rook started a 7 year apprenticeship as a Bricklayer & Stone Mason around 1794. His Master was Thomas Carter Allen of Portsea.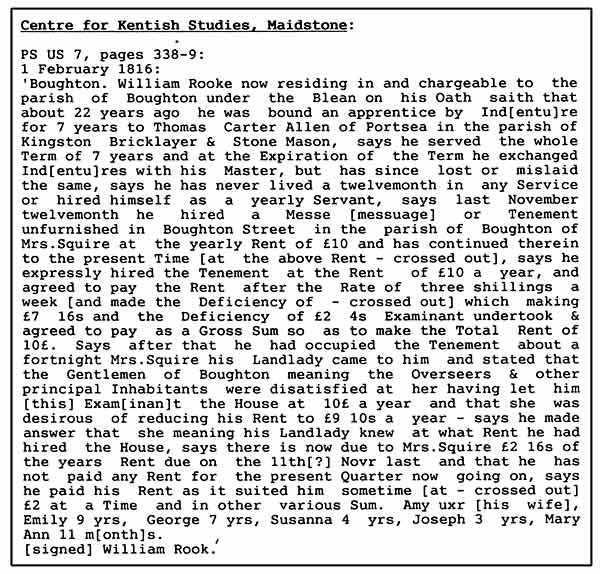 **If you rented a property at £10 plus per year it gained you right to settle in that parish; to be rid of the Rook family they needed to prove their rent was lower.
We next come across William Rook in Boughton Under Blean being married to AMY TAPPENDEN at St Peter & St Paul's Church on 27th October 1806. There are still a few descendants of William & Amy Rook in Boughton and the surrounding area today (myself being one of them).
The parish of Boughton Under Blean successfully 'removed' William, Amy and 5 children from the village in 1816 to William's last known Parish which was Portsea. This 'Removal Certificate' was issued against them by the Overseers of the Poor for Boughton Under Blean, so they had obviously temporarily fallen on hard times.
The removal to Portsea confirms to us that Portsea was the last parish that William stayed in for more than 12 months prior to being in Boughton. Why did he come to Boughton some 120 miles away? Did he stay temporarily elsewhere in between? A bricklayer/stone mason, during the Napolionic times??
Once removed to Portsea William appealed the decision and was some time later allowed to return to the Parish with a 'Settlement Certificate'. The Parish of Portsea were paid £5 for their trouble! Sadly, it is still unclear where William, Amy and the children stayed during their brief 'removal'. I wonder if he met family that he had not seen for years?
Below are census returns for William Rook and Amy Tappenden:
1841 CENSUS: BOUGHTON UNDER BLEAN
| | | | | |
| --- | --- | --- | --- | --- |
| Name | Relation | Age | Trade or Occupation | Where born |
| | | | | |
| William Rook | Head | 55 | | Kent |
| Amy Rook | Wife | 50 | | Kent |
| William Rook | Son | 20 | Tailor | Kent |
| Mahala Rook | Dau. | 15 | | Kent |
| Sabina Rook | Dau. | 14 | | Kent |
William states 'Yes' for having been born in Kent; this led us astray for many years as this was incorrect. Amy Tappenden died on 16th December 1843 (aged 55) at Boughton Under Blean.
1851 CENSUS: RAMSGATE, KENT. 2 Wellington Cottages, Ramsgate.
| | | | | |
| --- | --- | --- | --- | --- |
| | Relation | | | |
| | | | | |
| Henry S Hogbin | Head | 42 | Tea Dealer | Kent, St Lawrence. |
| Emily Hogbin | Wife | 42 | | |
| Henry Hogbin | Son | 15 | Tailor (ap) | Kent, Ramsgate. |
| Mary Hogbin | Daughter | 6 | Scholar | Kent, Ramsgate. |
| William Rook | Father in law | 73? | Nil | Dorsetshire, Holt. |
| Sabina Rook | Sister in law | 22 | Servant | Kent, Boughton. |
This is where it now gets a bit confusing. Emily Hogbin is William & Amy's daughter Amelia. We know her alias is Emily as she is referred to as Emily in the Removal Certificate in 1816. However, her father William has stated that he was born in Holt, Dorsetshire. He may have then traveled to Portsea for his apprenticeship, but not originate from there at all, so this needs to be looked in to further. Portsea was it seems purely his last parish of residence (his apprenticeship for over 12 months) before Boughton.
William Rook died on 13th March 1852 (aged 74) at West Street, Faversham at his son George's house.
Try the link above if you are unsure what lineage to go down. If you do know, select the link to the relevant child (listed below 1-12).
----------------
Where we shall start for now!
WILLIAM ROOK
Born 1777 / 78 at ? Christened ?
He died 13.03.1852 at Faversham, whilst staying with his son George. William was buried on 18.03.1852 at Boughton Church, aged 74.
**Please note the Boughton is the same place as Boughton Under Blean!
William married on 27.10.1806 at Boughton Church to:
AMY TAPPENDEN
Amy was born c1786 at Boughton. She was christened on 16.04.1786 at Boughton Church. She died 16.12.1843 at Boughton. Amy was buried on Christmas Eve 1843 at Boughton Church, aged 55. Amy's parents were William Tappenden & Mary (? Burley) of Boughton.
Children Of William Rook & Amy Tappenden:
(If you are not sure what line you descend from, try the 'associated names' page).
1. AMELIA SCOTT ROOK aka EMILY 1807
& Henry Hogbin.
& Sarah Sutton.
3. SUSANNAH ELIZABETH ROOK 1811
& Thomas Ralph.
& Eliza Smith.
& Alfred Barnes
6. WILLIAM RICHARD ROOK 1817 The naughty one!!
& Ann Branchett.
& Mary Ann Wildish.
& William Wood.
& Thomas Free.
Below is a picture of the surviving ROOK grave at St. Peter & St. Paul's Church, Boughton Under Blean.
Up the rear path just before the old yew tree.